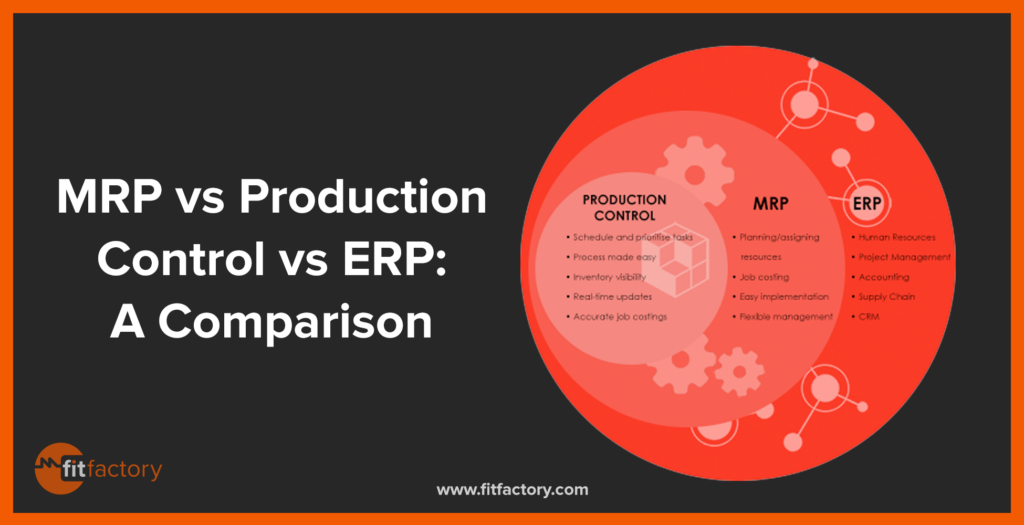 MRP, ERP and Production Control software packages are all associated with manufacturing systems – software that plans and schedules work, manages your inventory, and streamlines paperwork. Whilst they are similar in many ways, there are some important differences that should be considered when choosing which to use in your business.
Implementing the wrong system can be a costly mistake and its effects can influence your company for the long term, so it's important to choose the right one and make the most of your budget. So, what are the differences, and which system is best for you?
ERP systems – the jack of all trades
ERP stands for Enterprise Resource Planning. In simple terms, this represents a system that helps to plan and track the resources of your whole organisation, or enterprise. This includes a number of functions that MRP does not, including:
HR: With ERP you can manage payroll, timesheets and training.
Project Management: Considers time and cost management.
Accounting: Allows the management of nominal ledgers, sales, assets and more.
Supply chain: Purchasing, inventory control and suppliers can be organised.
CRM: Some ERP systems have an inbuilt CRM system to manage customer relations and payments.
Most of these areas are covered at least partially in MRP systems. However, a key benefit to ERP is that it acts as a single solution to manage a company's information and processes in every department. This means that data duplication is avoided and there is no need to train staff on multiple systems with differing user interfaces.
Whilst ERP sounds ideal in that it is a full business software, small to medium sized business often find that its many features and modules confuse things, and most of the functionality can seem unnecessary.
Like MRP systems, the cost associated with these software packages is ongoing. You will likely require support to use the system, and training may be required as a result of staff turnover. Many software buyers find that certain parts of the system, be it reporting or specific modules, are not suitable for the business, meaning a consultancy rate will be paid to alter the functionality.
Additionally, ERP systems often have integration and installation requirements that can delay implementation and potentially increase the cost. If your company is smaller, and doesn't require a solution to cover every aspect of business, MRP may be more suitable for you.
Production control – the planner
Production Control Software fills in the gaps of what MRP can lack, whilst still being a simpler system than ERP. These systems though are more operations oriented rather than materials focused.
Production Control systems enable users to schedule and prioritise tasks and provide visibility of inventory. It aims to provide real-time updates on how production is performing as well as to remove waste from the manufacturing processes through planning for demand.
As a result of the systematic and organised nature of these systems:
the quality of outputs is maintained throughout the production lifecycle
job costings can be generated accurately
the processes to be followed are easily adhered to as the system guides users through the logical, step by step procedure to complete every order smoothly.
However, the downsides include the complexity and detail that is involved in setting up a successful production schedule. It is important to track the staff who are working, the materials used and the products being manufactured, but inputting the data can either require manual data entry, or investment into complementary systems.
MRP systems – the specialist
MRP is specifically designed for planning and assigning resources throughout the manufacturing process. It focuses on the relevant tasks from quotation and job costing all the way to purchasing and invoicing. These systems, although consolidated to avoid disparate information, tend to exclude accounting processes.
These systems work well for manufacturing companies with high volumes of similar products, or with a small number of products. Companies with relatively predictable curves in demand will find MRP systems a good fit for them. On the other hand, when order quantities change frequently or if a business manufactures a variety of products, MRP systems struggle to plan production, and often require integration with a scheduling system.
Adopting an MRP system will generally make for a higher chance of success in the implementation phase of the system. Fewer departments are affected and there is less data to be migrated over to the new system than if an ERP system were to be chosen.
Whilst ERP manages the entire business' processes (including manufacturing), MRP handles processes only specific to manufacturing. While ERP systems are more comprehensive, the integration of a separate accounting package with MRP can provide similar management ability as an ERP system, but with more flexibility and easier implementation and training requirements.
The bottom line
Before choosing any production planning system, you need to weigh up the benefits and drawbacks of each type of software.
Typically, MRP systems are used by companies with fewer processes, or those who don't need such a comprehensive system, while Production Control Systems are used by manufacturers who need planning capabilities. They need more than just materials planning, but don't quite require an entire business management system like ERP. These larger ERP systems are usually adopted by larger OEMs, or Tier1/2 suppliers, with multiple sites, to help bring together larger extended enterprises.
If you can, speak to the customers of the providers to get feedback on the implementation process, value for money, suitability for their business, and any metrics they have around how the system has helped them.
fitfactory would be happy to help with any questions you have regarding what system is right for you. Our unique product offering enables us to offer Modular MRP systems tailored to niche industries; which provides the flexibility to adopt a system perfectly suited to your business needs, that can scale as you do.
Whether you're an additive manufacturing company, a small precision engineering firm, or a special processes business, there will be a production control system for you should you decide that it's what you need.
fitfactory support the Manufacturing Growth Programme and the Business Growth Hub to offer subsidised advice and solutions for engineering & manufacturing SMEs. Contact us for a free consultation and more information on the potential of benefitting from this funding.
Sign up to our mailing list to receive updates when we post another blog like this one!