Generate actionable insights to improve performance
Business Intelligence for Manufacturing
Create personalised dashboards and track KPIs to analyse performance as teams. And turn insights into actions by triggering alerts that notify the right people when exceptions occur.
REQUEST A DEMO
Connect your business with intelligence
Bring together all the information you collect from different data sources, from your production management, accounting package, customer surveys, and anything else you measure.
Combine datasets together to get a complete view of your business, and develop clear understanding of the impacts different departments have on each other.
View it all from one central location.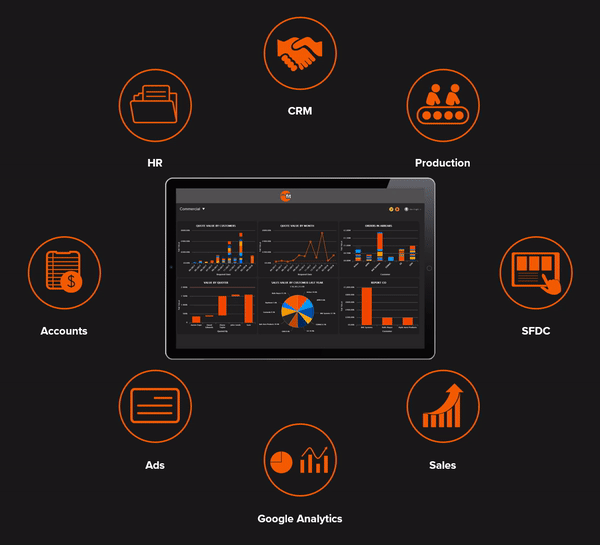 Run your business on the go
Access your information on the go, on your laptop, tablet or mobile device.
Set up rules and receive alerts when significant changes occur in your data, like when a machine shuts down unexpectedly, or you just won a big order.
So you always know what's going on in your business.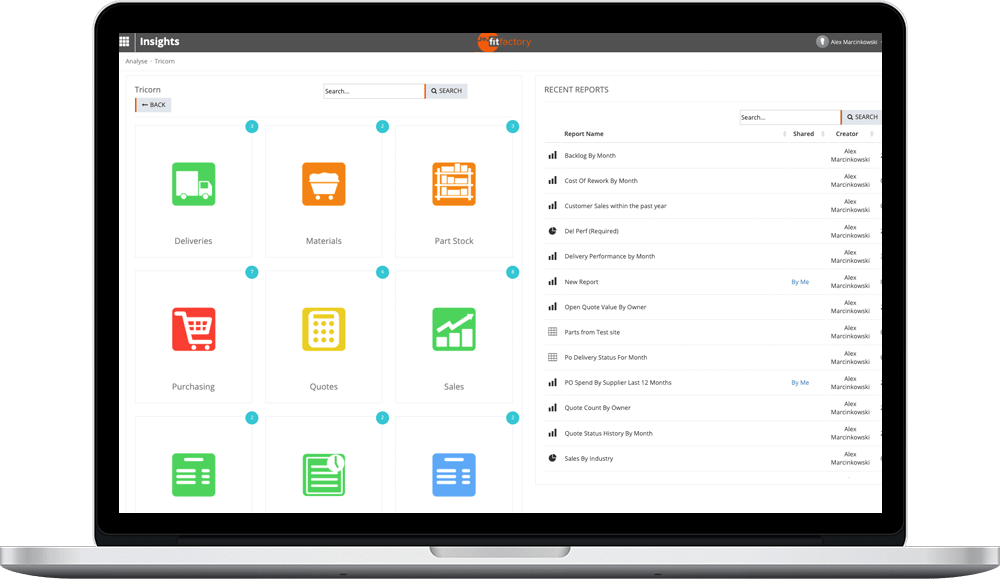 Collaborate, and improve together
Unlock a new way to share insights and reports with your team, in the boardroom, with customers and suppliers.

Create personalised dashboards to share with multiple partners, and filter them to only show the information relevant to them.

Your partners receive updates in real-time as you capture more data and complete jobs.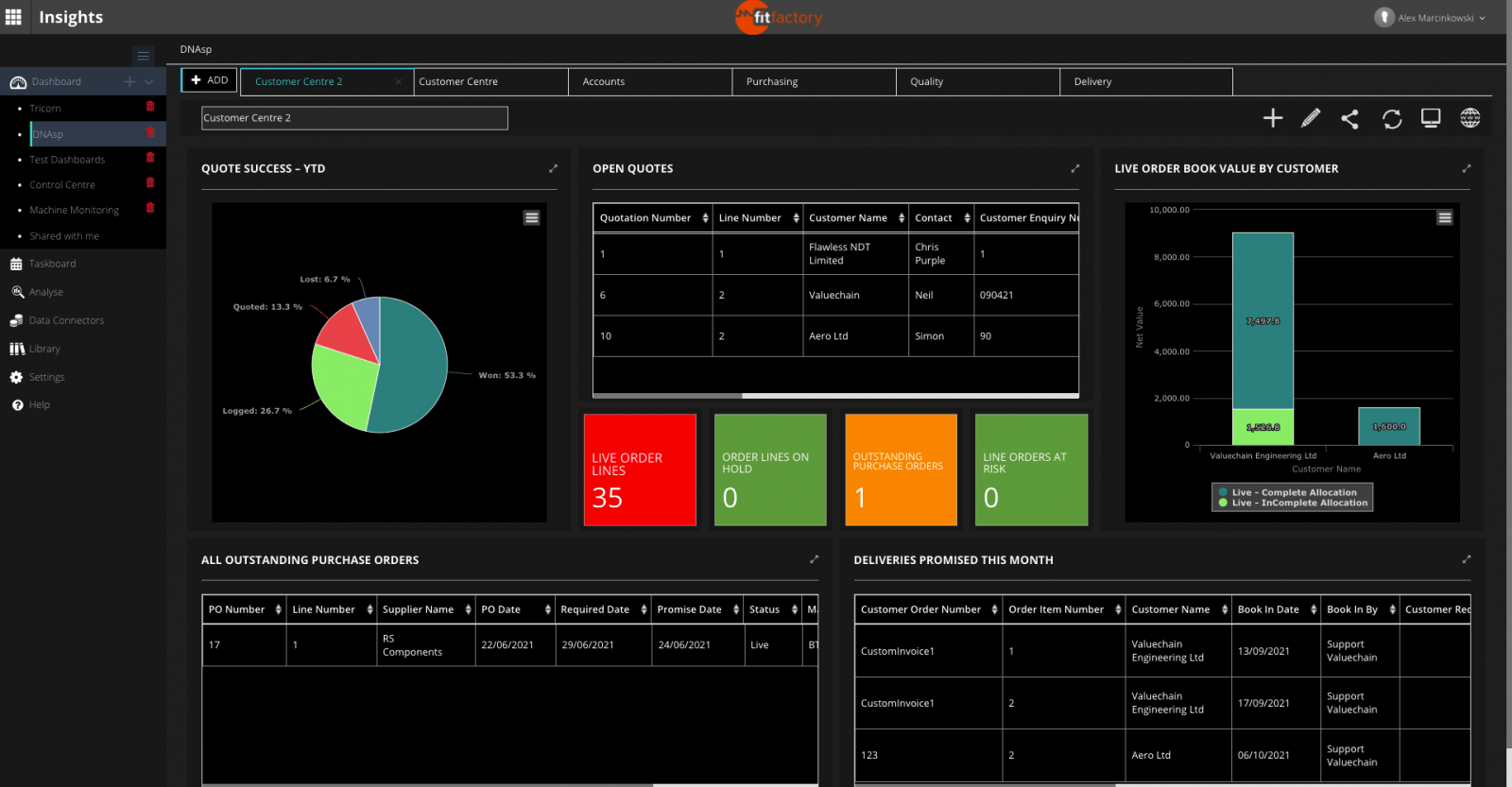 Get started today
Collate all your information from different systems into one place by connecting with our open API.
The intuitive drag-and-drop report builder makes it easy to monitor the KPIs you want, and explore your data in different ways.
Once your reports are made, they refresh in real-time. Receive alerts so you know when important changes occur.
Each user creates dashboards personalised to them, so you can easily monitor only the KPIs you need most.
Share reports internally and externally, and filter them by the recipient so they only receive the information they need.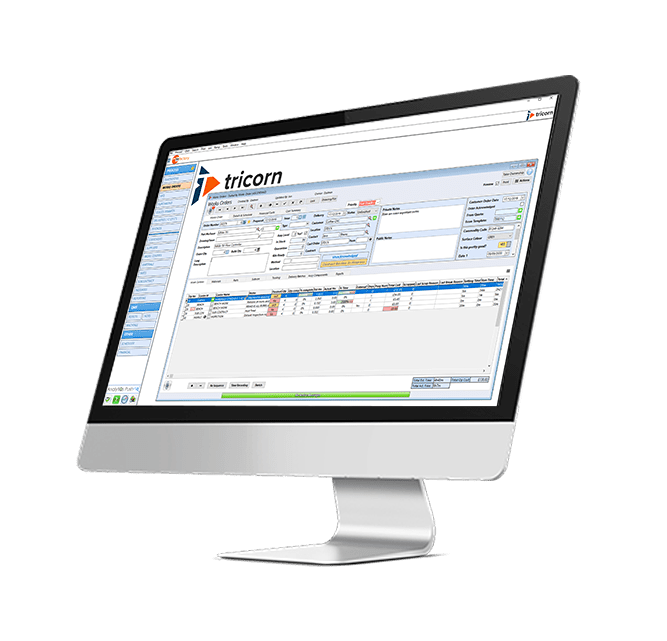 Perfect as part of your Fitfactory solution
When combined with other Fitfactory modules, the Insights modules can help capture information across your business to drive continuous improvement
Monitor information in real-time
Select your KPIs and watch them update in real-time. Each user can monitor the KPIs most important to them.
Share insights with teams
Select your KPIs and watch them update in real-time. Each user can monitor the KPIs most important to them.
Turn insights into action
Combine reports that tell a story. Click to dive into the detail. Make decisions and assign actions based on clear insights.
Insights that drive productivity
Start your transformation with Fitfactory
"*" indicates required fields
FAQs
Most frequent questions and answers