Simple software for smart manufacturing
MODULAR MANUFACTURING MRP SYSTEM
Get started in just a matter of days with a smart, simple MRP system to manage operations from quotation through to invoice, and build up your system as you get fitter!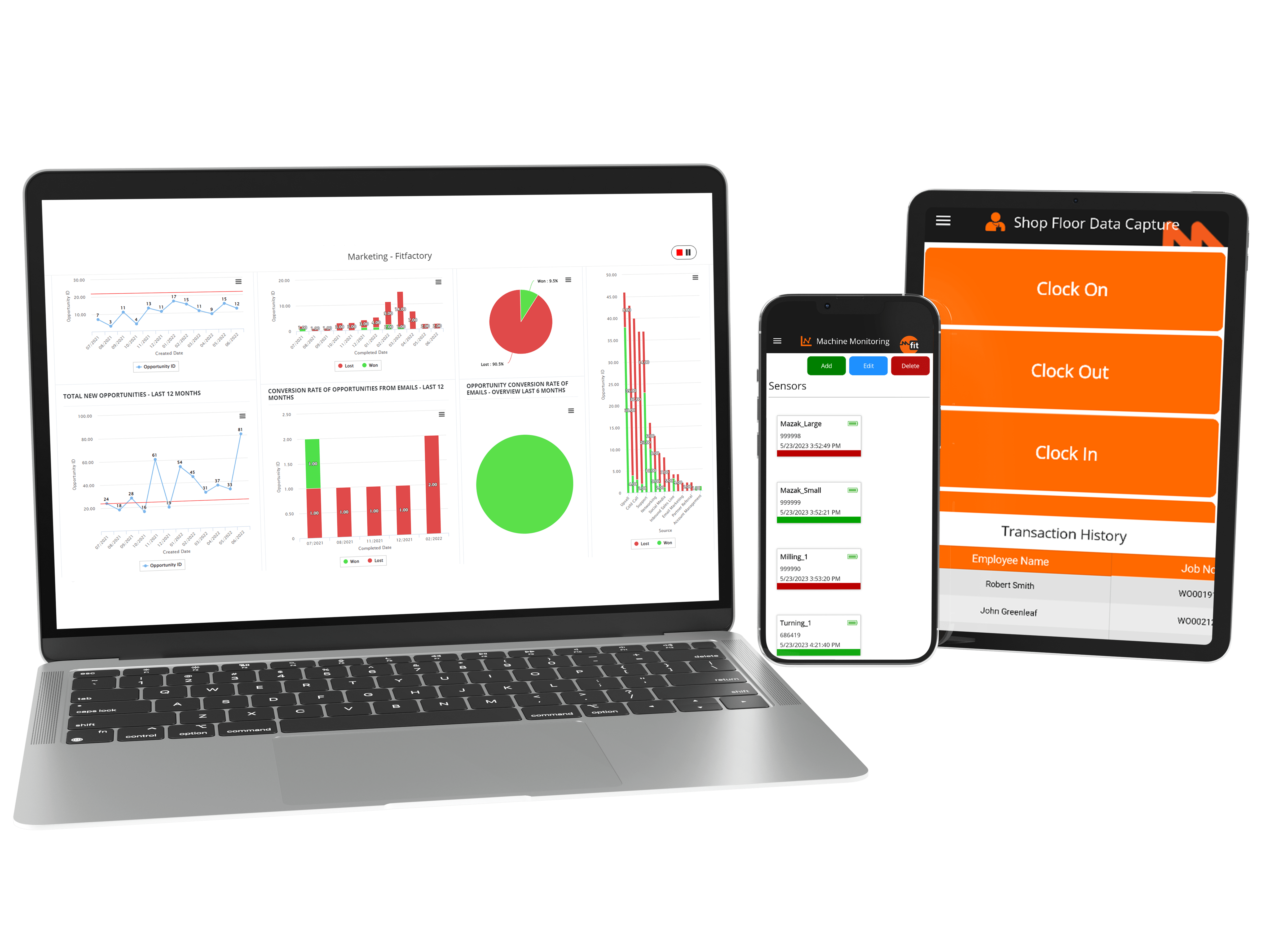 An Award Winning Solution
Hailed by early users as revolutionary, recently Fitfactory's MRP solution has been recognised by MakeUK as an Innovation Award Winning product.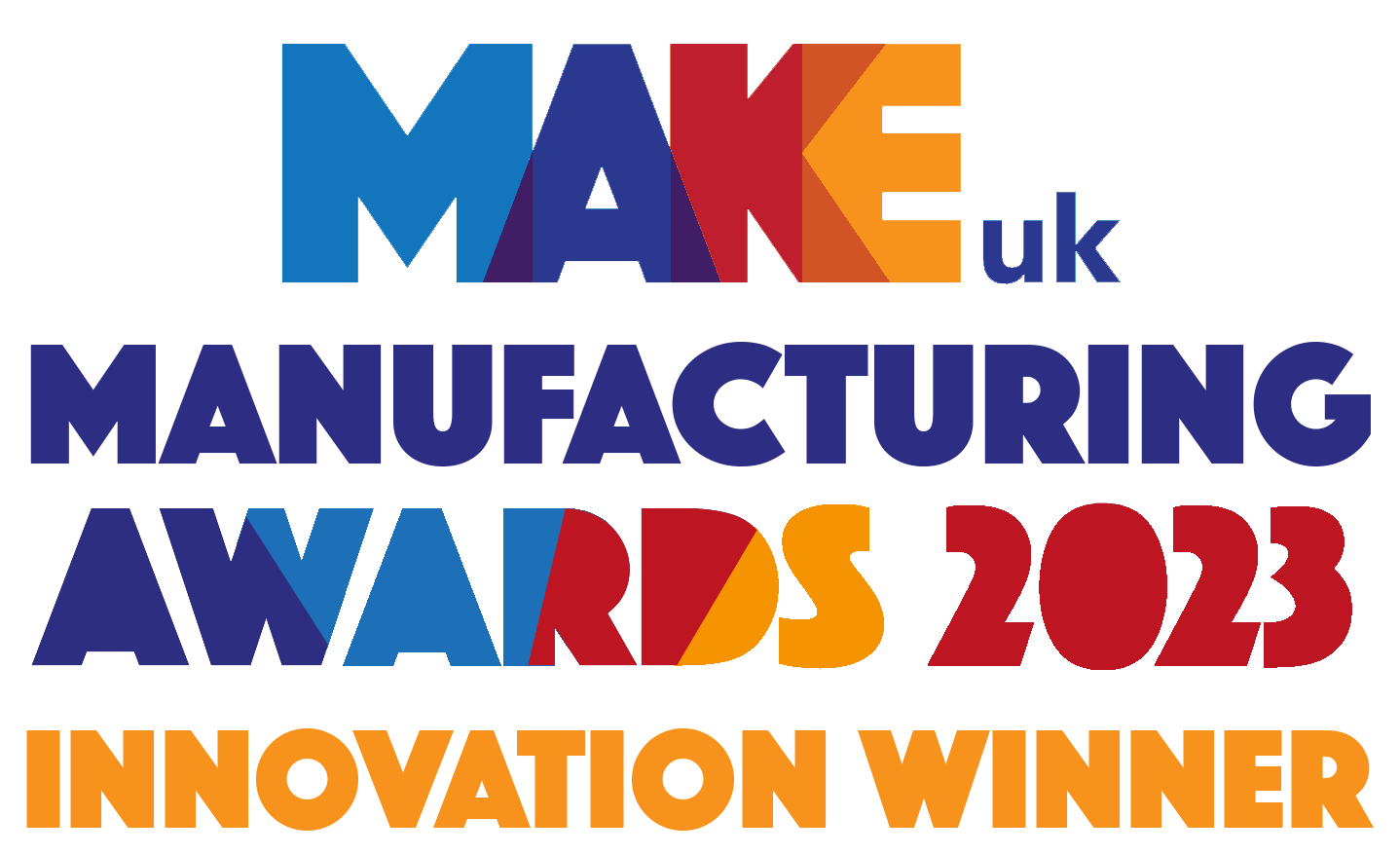 The "Go-Live" process was eased by the incredibly helpful and supportive approach from the Fitfactory team who were always there to guide us and answer any questions that we had, no matter how small.
Metspin Ltd
End-to-end production management
Get the core modules you need to improve your production management in no time. This package helps you streamline manufacturing operations and simplifies compliance with ISO, AS9100 and IATF16949, to help you get leaner and more agile.
Get fit in days!
MRP implementations no longer have to be long and painful! Our modular, scalable manufacturing MRP systems help you get fit in days, not weeks or months! From selecting a simple production control system, you can start only with what you need and add modules as you grow.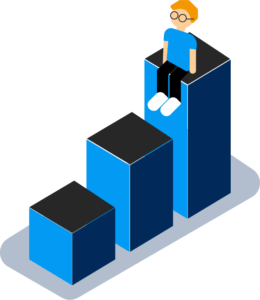 Achieve delivery targets, effortlessly
Intelligently plans in jobs according to live capacity availability to optimise resources
and plan production to achieve delivery efficiencies and cost targets, effortlessly.
Improve OTIF performance
Ensure you deliver work on-time in-full by automating finding the best schedule for your jobs based on due date and capacity
Optimise machine capacity
Ensure machine loads are evenly balanced with a simple view of your schedule operations
Adapt to changes on the fly
When changes occur, easily drag & drop jobs onto different machine groups or dates to adapt quickly and effectively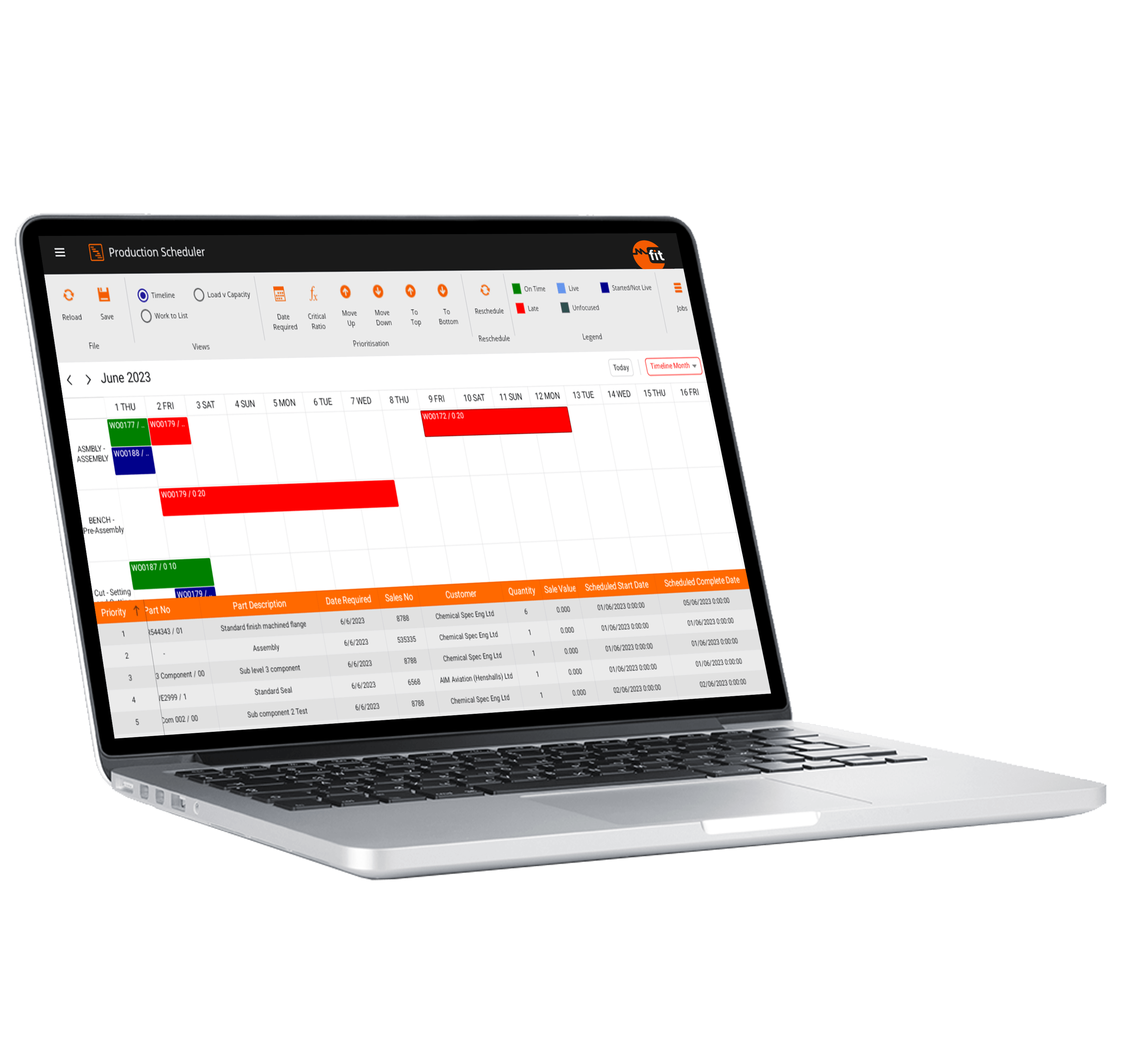 Empower your employees
Your SFDC is an extension of your production system and empowers your shopfloor operatives to perform their jobs effectively, with daily work-to lists, to connect your shopfloor to your boardroom.
 

Share detailed instructions

 

Assign work-to lists & prioritise tasks

 

Log job run times & non-productive hours

 

Full traceability of who did what & when with time and attendance tracking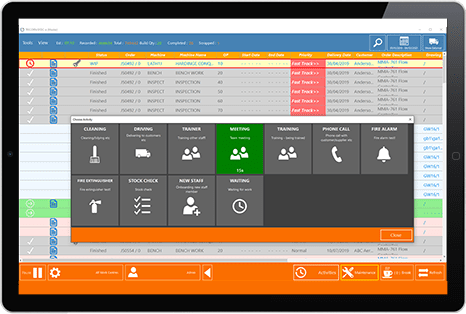 Leaner processes from quotation to invoice
Improve production management for manufacturing through 6 key modules, to make
manufacturing operations leaner and improve your factory's fitness!
Prepare accurate and professional quotes to meet the needs of both you and your customers. Quotes can cover single or multiple items, multiple quantities of the same item, or assemblies, in any combination.
Create a Works Order directly from a Quote, template or previous order. Use this information to qualify the build, material, parts, subcon and tooling requirements. Produce comprehensive shopfloor documentation including job cards (travellers) with digital pictures.
Generate an RFQ for suppliers in order to produce Purchase Orders from Quotes or Works Orders. Purchase Orders are used to order parts/materials/sub-contract/tooling for both works orders and stock
Log Goods-in and monitor stock levels for raw materials and consumables. Keep detailed information of materials used, costs, specifications, locations and quantities to easily track your stock levels and flag any discrepancies quickly.
Easily create delivery notes for single or multiple items, and automatically produce certificates of conformity, showing the 'build' of items, down to the material, parts, subcontract and tooling that were used.
Build invoices from approved works order batches. Invoices can contain single and multiple items from Works Order delivery batches, ad-hoc items, delivery charges using their own VAT rates, analysis codes and be multi-currency.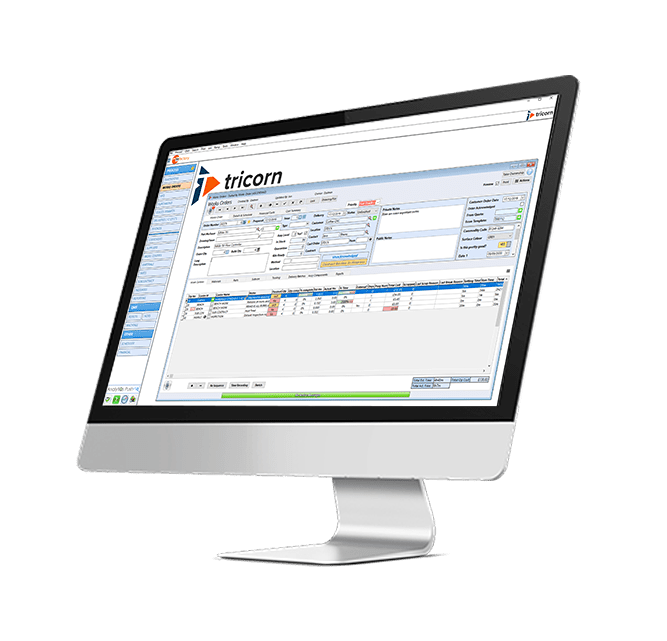 Poweful business dashboard
Make data-driven decisions
Monitor sales and production KPIs in real-time, to help you make informed decisions
Improve team collaboration
Monitor sales and production KPIs in real-time, to help you make informed decisions
Increase customer satisfaction
Share real-time work status with customers so they always know where their jobs are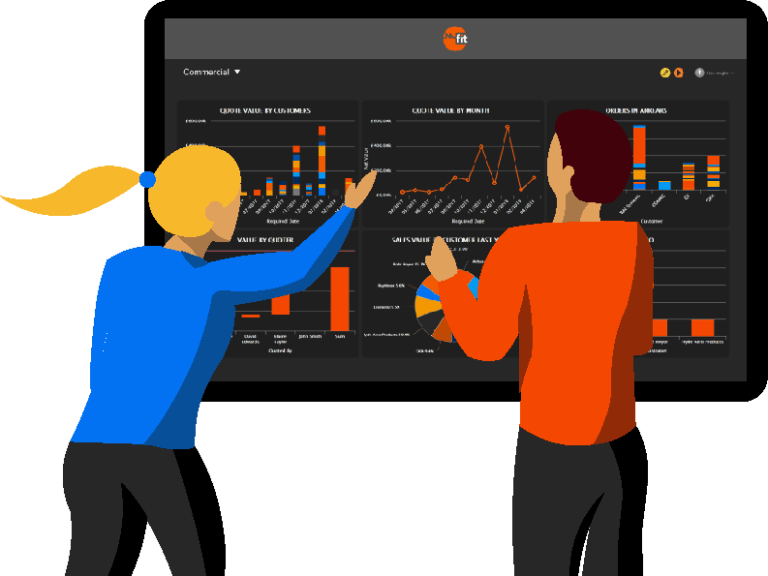 Supporting manufacturing across the UK
With over 280 customers, and more than 6000 users, our system is trusted by fabricators, precision engineers, injection mouldings companies and more!

"After reviewing the system's capabilities, it was immediately evident that it catered for all our needs. Their team share our desire for continuous improvement, and have developed the system to cater to the unique industry requirements."
Aerospace Metal Finishers
Start your transformation with Fitfactory
"*" indicates required fields
FAQs
Most frequent questions and answers