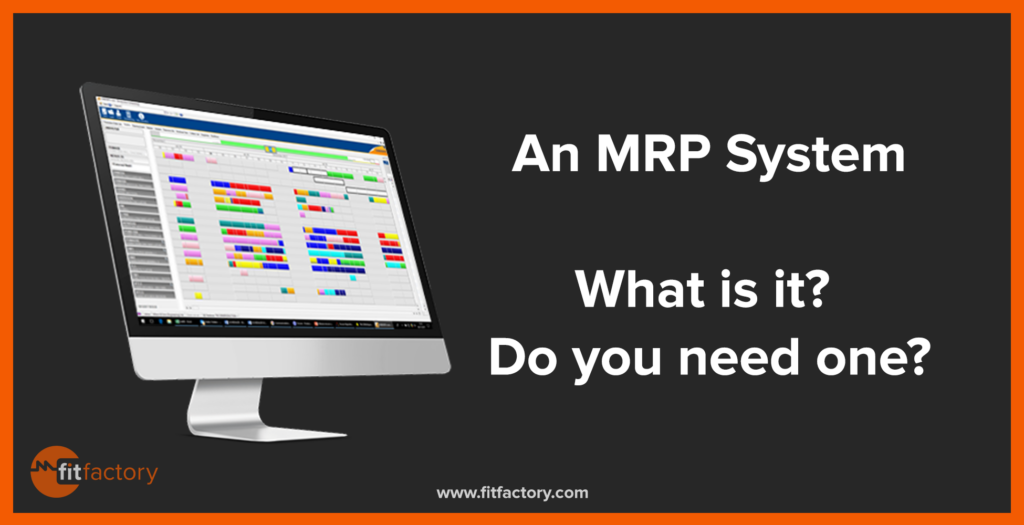 Manufacturers across the globe want to improve productivity and customer satisfaction whilst reducing costs. It can be argued that all businesses want to manage their processes perfectly. It's no doubt that with Industry 4.0 on the horizon, you're searching for tools that will help you to thrive. In its simplest form, productivity can be measured as Output per Person. To do this, you need to make sure you have the right resources to complete jobs efficiently, without increasing your cost base. But in manufacturing, this can be a complex task. However, a Manufacturing Resource Planning (MRP) system will help you to streamline these processes. This is a great step forward if you don't have a system already. In this article we'll provide you with information on what an MRP system is, and how it can help in your business.
What does an MRP system do?
An MRP system
manages your manufacturing processes, helping to streamline production planning and material usage throughout the job. Consequently, this enables you to be as productive as possible.
A typical MRP system will perform the following functions:
Production Planning: Converting a master schedule into a detailed schedule of works orders, so you can purchase raw materials and components
Inventory management: Tracking materials throughout the factory and ensuring you have the right materials and parts required to complete a job. Helping you to balance lean vs agile inventory management based on demand
Job management: Brings all the information needed for a job is together in one place, including customer specifications, drawing instructions, Bill of Materials (BOM), delivery targets, and costs
Quotations: Combining information from customer specifications, previous sales and previous suppliers to quickly and accurately produce quotes and in some systems costed BOMs
Purchasing: Simplifying supplier details and purchase history to ensure you purchase materials from high quality suppliers at the best price
Quality management: Produces the necessary paperwork for quality certification, including Certificates of Conformity, Rejects and Reworks, and provides full traceability of who did what and when in the system.
You can see that ultimately, an MRP system covers each stage of the production process, from quotation to invoice.
What are the benefits to your business?
By simplifying inventory management, your orderbook will be easier to manage. You won't need to worry about a lack of stock, nor will you have to decline short-notice requests. An MRP system will keep your stock levels lean, so you don't waste money over-stocking. If you regularly get short-notice orders for a part, you can be ready by keeping safety stock.
Your MRP system will provide all the information that you need to ensure you have the right stock at the right time.
We all know about the enormous amount of paperwork generated from the quality and compliance standards that are necessary for safety in the workplace. An MRP system will dramatically reduce the quantity of paper hanging around, automatically producing documentation for you. Not only will this save you hours of time, but it will also result in increased accuracy of paperwork and a tidier workspace. This will help you to improve productivity whilst reducing the risk of overstocking.
By automating paperwork, employees will no longer have to spend time filling it in. This means that more time can be spent completing jobs, giving you a higher production percentage. A standardised process helps you to streamline jobs whilst improving the visibility of the shop floor. By using our MRP system, Walton Plating have experienced improved efficiency and happier customers, as they now receive regular updates on their orders.
By digitally tracking materials through the process, you also capture a lot more data and information. This allows you to accurately measure how you're performing in key areas. An MRP system will give you all the data you need to improve operational efficiency. However, it's also important to track the right KPIs. Take a look at the top 5 KPIs that you should track to provide great benefits to your business.
Is an MRP system right for you?
So, you might be questioning whether your business needs an MRP system. There are lots of options, and you need to consider what is right for your business. Implementing any new software that changes your core processes will impact your business in the short-term. For this reason, it's vital that the software you choose is right.
If you're a large company or have multiple, complex processes, you may benefit more from a complete business management system, such as an Enterprise Resource Management (ERP) system. These also provide more detailed functionality if you have multiple sites in various countries and need to manage everything together. However, an MRP system can still be useful for you to gain greater control of your manufacturing operations. By integrating with your ERP system, you could gain the best of both worlds.
SMEs and MRP systems?
As an SME that's aiming to grow your orderbook and you're searching for an unrestrictive solution, an MRP system is perfect. There are a few things to consider when looking at options to make sure that you find the best software for your business.
As an SME, you need a system that enables you to be up and running with minimal disruptions to production. You'll need a system that's easy to learn and understand, and practical for engineers to use daily. One that's designed for Managers or Finance Directors may be great for producing reports and tracking costs, but it may require a lot more training for your team. This could potentially result in a slow down to production.
With the Coronavirus pandemic, we've all seen how vital it is to adapt business processes. A good MRP system will enhance your opportunities to expand into new markets. If you're thinking of expanding, it's always worth checking that potential providers have a customer in that market already. This will give you a good indicator as to whether their software will be right for you.
We would also advise that you look for a modular system. This way, you can take the modules that you need now, and add on elements when you need them. An adaptable system is paramount for Industry 4.0 and the need for data on everything you do. Having a system that you have to supplement with spreadsheets is going to leave holes in the data you can collect. By choosing a system that can handle future integrations, you'll be set up with a future-proof solution.
By researching a few different MRP options, you can choose one that fits with your business goals. This will provide you with a scalable platform that will grow with you.
Fitfactory's MRP system
At Fitfactory, we provide software configured to a range of niche industries, with over 280 customers in the UK alone. We have been providing MRP systems to a variety of customers for over 25 years, and help our customers' systems grow with them. Our scalable system means that you can buy the modules that you need today, and add others as you grow. If you need to ensure you're complying by AS9100 or ISO9001 accreditation, our software will effortlessly mould to your needs.
If you're searching for MRP software that is easy to learn and use, contact our team today