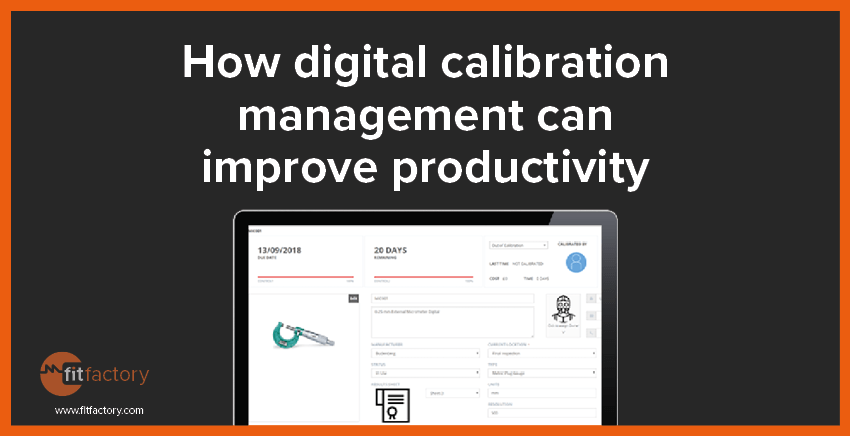 Digital calibration management
The industry is becoming more digital everyday. Everything from using robots in production, to taking a tablet onto the shopfloor, through to sensors on your machines. And, these tools are driving considerable improvements in manufacturing companies big and small. However, digital calibration management may not be the first thing that comes to mind when thinking digital. But, there's significant potential for streamlining processes through adoption of digital calibration systems. And these can improve the overall productivity of quality teams.
Previously, our blog discussed the 4 main types of calibration software on the market. And, with the movement towards connected systems, your calibration software should integrate all the types of software and their requirements. However, beyond the functionality of a modern system, it should enable your company's digital culture. Similarly with other systems, your quality management and calibration should enable collaboration, decentralized systems, and provide real-time business insight into your business.
You may not have thought this possible from calibrations, but let's explore the opportunities it provides to improve product quality.
Device linking
Digital calibration tools are now widely used to capture more accurate digital readings. However, linking these tools with your Calibration Management Software and logging their details would provide a complete dynamic asset database. Then, this would incorporate manufacturer details for use, including number of uses between calibrations, and parameters for use.
Furthermore, digital assets automatically log the usage in the software, reducing the need for manual data entry and improving data integrity.
Paperless software
The software should be cloud based and usable on mobile devices to eliminate the use of paper-based tracking systems.
Using software that's available on mobile devices, like phones or tablets reduces wastage in the process. Therefore, it will reduce the need for paper-based checklists, or spreadsheets carried around the shop-floor. You don't need to create it in excel, print it out, fill in the information and re-enter the information. Instead, teams will log each activity in the system as they complete the task, minimising duplicate admin work.
Collaborative calibration
The digital systems allow you to work as cross functional teams, and empowers engineers to record each time they use an asset. Each person logs in to the system. You can pre-assign assets and tasks to each person. Then, the system tracks where each asset is located. So you always know the last used location of the asset. And who was responsible for it.
So, it's allowing you to work collaboratively, without compromising on quality of process.
Furthermore, incorporating software that's available on mobile devices, and digital calibration tools, users can scan the asset they are using as well as the machine or tool that's being calibrated.
Including machine parameters in the database will mean that scanning the machine will let you know if it's out of tolerance when checking the machine, and can automatically log if they require calibration. Then, the system can notify you (or an engineer directly) that the machine requires calibration, so you resolve the issue as quickly as possible.
Data visualisation
Tracking all this information digitally can create a digital thread through your business which provide information for every action and activity performed through the calibration process. So, teams can accurately analyse performance metrics and KPIs, including most used tools or average time to recalibrate tools. It also equips your team with a guide of which tools are likely to go out of calibration soon, and take preventative measures, rather than reactive measures.
Supplier collaboration
Particularly when subcontracting calibrations to specialists, the ability to securely share information between companies is incredibly important. When your calibration software includes a supplier portal, you would be able to distribute parts to subcontractors, be alerted to their receipt, and track when it's scheduled for calibration, when it is being recalibrated, and when you're expecting to receive it back.
Furthermore, if your subcontractors are able to share their quality, cost and deliver performance metrics with you, then that provides the information required to consider changing suppliers or working with them to improve.
Calibration management
Fitfactory's calibratation management module is designed with many of these principles in mind. It facilitates more connected quality management systems and teams, and uses the latest technologies to improve productivity in industry.
The cloud-based system maintains a dynamic asset database. It provides full traceability of who did what and when, with calibration history and certifications. Also, you can schedule calibrations based on time elapsed or number of uses, and assign actions and activities to different users, direct from the shop floor.
Finally, when integrated with data analytics tools, it can be beneficial in continuous improvement programs as well, to identify root causes by viewing non-conformities and asset history over time.